I'm not cooking this year, but it doesn't stop me from thinking about the wonderful ham my mom used to make every year. I can still smell the aroma right as though I'm baking it myself. Most people don't make a gravy for ham. My husband was completely surprised there was such a thing. He was definitely in for a treat and so are you!
6lb Smoked Ham-bone in (see picture below)
1 large can sliced pineapple rings
Cloves sticks
2 cups brown sugar
5 cups chicken stock
1 tablespoon cornstarch
Place the ham in a large pot and cover with water. Allow to boil for five minutes, dump the water out and refill, repeating the same process two more times. This is to remove the salty taste. This is a good time to preheat the oven to 325 degrees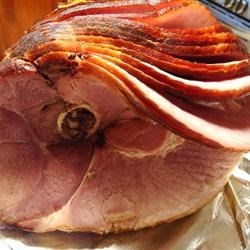 EASTER HAM
Once the ham has cooled, score the top into one inch squares, place a clove into the corner of each square. Next, using toothpicks, pin the pineapple rings onto the face of the ham . Place ham into a roasting pan.
Mix together two cups of chicken stock with 1 cup brown sugar. Pour the glaze over top of the ham. Add two cups stock into the base of the roasting pan and place in the preheated oven. Bake for 4 1/2 hours, making sure to baste in between. Remove from the oven and place on a platter to cool slightly. Remove the cloves and discard before slicing. Remove the pineapple slices and place on a dish, discard the toothpicks.
Pour the juices from the roasting pan into a 10" pot. Add more stock if there's not enough juice. Heat on medium high until it bubbles again. While you're waiting for it to bubble, mix 1 tablespoon of cornstarch with a 1/2 cup of water or stock and blend together until completely smooth. It should have a yogurt consistency. Lower the heat to medium, add the cornstarch mixture into the pan and whisk until smooth and bubbly. If necessary, add more stock to thin the sauce if it has thickened too much. Salt and pepper to taste.
Happy Easter!